MCBiotron® point-of-care device:
a unique diagnostic tool in your hands!
MCBiotron® is a CE-IVD marked medical device for professional use, registered with the Ministry of Health, which allows you to carry out molecular diagnostic tests in a quick and simplified manner, ensuring the same accuracy as similar tests performed in hospitals or specialized medical analysis laboratories.
Small and light: transportable anywhere
Powered by rechargeable batteries
Genetic tests guided by an app and validated by Experts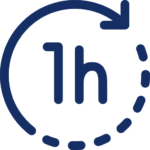 Diagnostic result in real-time (<1h)
MCBiotron exploits advanced proprietary and internationally patented molecular biology techniques, which allow obtaining on-site/point-of-care genetic analyses with fast response times and in a non-invasive way (the biological specimen is typically a small amount of saliva or a buccal swab). Such technology allows the Professional to carry out genetic analyses on the patient directly and without requiring complex pre-analytical procedures or interpretation of the molecular results.
General Overview – Unboxing
General Overview – Unboxing
The unique feature of MCBiotron® is that all the diagnostic results sent to the Professional are first analyzed and validated by Specialized Operators in Clinical Analysis Laboratories, authorized by the National Health Service. Such continuous quality control provides the Professional with full clinical guarantee and makes the tests performed with MCBiotron® identical to those obtainable in specialized laboratories. Moreover, the patient avoids physically going to the laboratories and having to wait for the results for days.
MCBiotron®: a real analytical laboratory in your hands!
MCBiotron® is a registered trademark of MC Biotech. All rights reserved.